Optically Rewritable Liquid Crystal Display (ORW-LCD)
Technology:
We developed new Optical Rewritable (ORW) liquid crystal technology and utilize it to create display. 
ORW display carries no electrodes on board and uses polarizer as substrates. I
ts simple construction secures durability and low cost for mass. 
The on screen information is changed in writing unit that consists of LCD-mask
and exposure source based on 450nm LED, low power and cheap solution in comparison with Hg-lamps or lasers. 

Optically Rewritable Alignment Liquid Crystal Technology.
ORW LCD operates in ECB and TN liquid crystal configurations byIPS switching of
alignment direction within aligning material, caused by controlled exposure of polarized light (Fig.2).
Azo-dye aligning film rotates its aligning direction in-plain keeping perpendicular to
the polarization of writing light. LC follows top aligning direction switching between
ECB and TN modes. So the LC structure is always stabilized by the surface.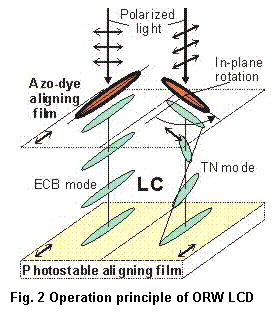 The image is truly stable, can be written to grey level with saturation and rewritten a large number of times
 with high reproducibility of properties. 
The image can be written, seen and rewritten through a commercially available polarizer.

Advantages: 
¡

      

Display and Drivers are separated 
¡

      

No ITO 

plastic substrates 

is required 
¡

      

ORW-LCD directly on polarizers
¡

      

Very cheap 

and simple display piece (good for mass) 
¡

      

Cell-gap non-sensitive display with stable grey levels (50% gap change tolerable)
¡

      

High contrast in reflective mode (>81:1 with >30% reflection)
¡

      

0V

 power consumption
Applications: 
NEW TYPE OF LCD DISPLAY!
·

         

Display for Plastic card (Phone Cards, Credit Cards, VIP Cards, supermarket labels and etc)
·

         

Blue laser printable paper-like matter